Today I am writing on how  TO START CASHEW FARMING IN NIGERIA
You may never realize how profitable the cashew growing industry is until you get involved in it or get closer to a dealer. Nigeria as a country is profiting handsomely from cashew exports. According to the cashew association, Nigeria is currently Africa's sixth largest producer of raw cashew nuts, behind Ivory Coast, Tanzania, Burkina Faso, Ghana, and Mozambique. Ogbomoso is said to have the best cashew soil and climate in Nigeria, as well as the highest quality cashew nuts. According to the Vietnam Cashew Association, Vietnam has retained its position as the world's leading producer and exporter of cashew nuts.
Processing or roasting cashews makes more money than selling them raw; the ratio is 1:10. Nigeria should stop selling raw cashew nuts and instead process or roast them to take advantage of the high cost of exporting the nuts.
Nigeria needs to export roughly 500,000 tons of raw cashew to become the second largest exporter; we are far short of this goal. This is where you, as an agricultural investor or entrepreneur, may contribute to the achievement of this goal.
Do you consider agriculture to be a project or a business? Agriculture is a large-scale enterprise, not a project. I'd like to walk you through a step-by-step process for starting a cashew farming business. The enterprise is not a get-rich-quick scheme. It takes three years to create a hit, but it is well worth the wait. It necessitates a significant investment in both planting and harvesting.
PREPARE THE LAND
Purchase a piece of land; I would not recommend leasing because it is a long-term investment. So acquire a piece of land in the hamlet and secure it with the proper paperwork. The ideal soil to utilize is laterite-rich sand. Cut down shrubs and trees as well as grasses. Machines are used to plough and level the soil. If the nutrition level is low, combine the sand with animal faeces, but first test the soil to determine its nutrient content. Cashews may be grown in both wet and dry tropics.
PLANTING
Cashew seed planting is just as difficult as coffee and oil palm seed planting. Click here to learn more about oil palm farming. As a result, it is recommended that you purchase seedlings that have already sprouted from a reputable nursery with a diverse range of species. Seedlings from propagated plants take three years to mature, whereas seedlings from direct seeding require five years.
Choose grafted cashews for commercial applications. Use pots or plant directly into a prepared bed if you wish to do it yourself. In a 2-3 cm deep hole, place 2-3 seeds.
Irrigate the nursery every day, and the seeds will sprout in 4-7 days. Make use of fresh seeds. The viability period lasts from the first day to four months, after which time the viability begins to decline. For three days, dry the seeds in the sun. The next day, soak them in water overnight before planting them. The standard spacing is 6m x 9m.
A hectare of 8m x 5m will yield 100 seedlings; a hectare of 7.5m x 7.5m will yield 175 seedlings.
8m x 8m yields 156 per hectare.
Before the cashew tree takes over the farm, you can intercrop with cassava, plantain, pineapple, melon, water melon, sugar cane, and other crops.
FERTILIZATION
Fertilize with nitrogen, phosphorus, and zinc. Cashew crops require nutrients at all stages of development in order to grow quickly and produce high-quality fruits. Fertilize them during the growing stage, as well as during the fruiting and flowering stages. Once a year, apply 15kg of farmyard manure to a mature cashew tree.
IRRIGATION
Irrigate your cashew farm during the dry season or when there is a draught during the wet season. Water your plants adequately and on a regular basis if you want them to produce more fruits. Water the plants sparingly during the rainy season, but irrigate them once a week or twice a week during the dry season. In cashew farming, a temperature of 25C-30C is ideal for optimum growth. Every day, 6 hours of direct sunlight are required. If you grow them in the shade, they will not produce fruit.
MULCHING AND PRUNING IN CASHEW FARMING
Cashew plants are pruned in the same way that hibiscus plants are: entangled branches are cut off, overcrowded areas are removed, and clean straight branches are added. Mulch the entire farm with compost manure to decrease weed growth and save moisture.
PEST/DISEASES
Root and stem borer, tea mosquito, leaf miner, and other pests are among them. Twig and fora shoot dieback, root rot, and other diseases Pesticides and insecticides should be used, and resistant types should be planted. To discover how to utilize neem oil to combat pests, diseases and illnesses.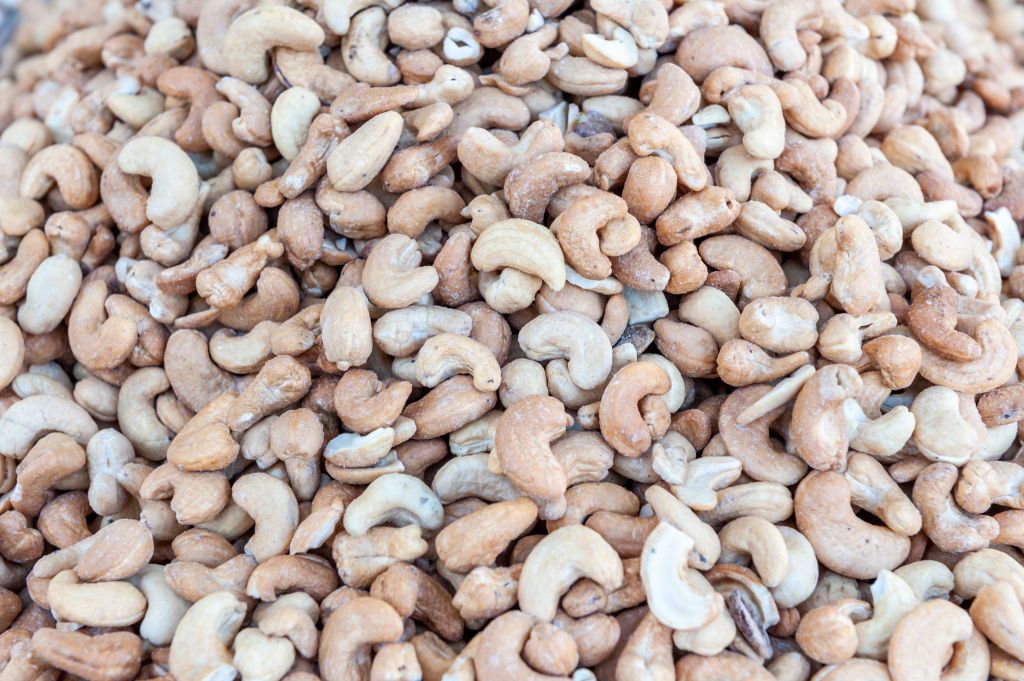 WHY SHOULD YOU BEGIN CASHEW FARMING?
It is a long-term investment with a potential return of more than 50 years. The best product of cashew farming is the cashew nut. However, you can make more money by processing the apple into fruit juice. The nuts are in high demand, and the price doubles every year, making it a very profitable business. Because the bulk of those who deal with cashew nuts are exporters, the price is usually established in dollars.
The cashew season lasts 3 to 4 months. You keep picking money for four months out of the year. That's what cashew farming is all about!
CASHEW NUTS HARVESTING AND DRYING
Late in January, the ripe fruit begins to fall. Make sure the area around the trees is clear before the trees begin to drop their fruits. To allow for optimal picking of raw cashew nuts, remove grasses and other weeds from surrounding the tree. When the fruit falls, it indicates that it has reached maturity. To avoid quality loss, pick the nuts within 2 to 3 days of them falling.
Remove the apple from the nut using a sharp knife. The quality of the nuts would be harmed by ineffective detachment. To achieve even drying, place them on a clean surface and turn them frequently. Drying them indoors will create a delay in drying, which can lead to deterioration. Because of the risk of rust, do not dry them on a metallic surface. When the nuts are completely dry, they make a rattling sound when turned. It may take a few days to dry, such as 2-3 days, but always bring them inside at dusk to minimize moisture getting into the nut.
HOW TO STORE CASHEW NUTS
Store them in jute bags rather than containers, sacks, plastics, or other similar materials. Stitch the jute bag to keep it from spoiling. Place the bags on wooden pallets in a dry, well-ventilated area. Avoid placing them on the floor to avoid moisture absorption, which could cause them to deteriorate.
Allow 0.5m between each bag for proper air circulation, and sell the nuts within one year of harvesting to avoid deterioration.
CASHEW NUTS ROASTING INSTRUCTIONS
Set up a fire and a wire gauge over it, then equally distribute the nuts and allow the heat from the fire to roast them. Don't let them burn; stir them occasionally. When the nuts are done, they'll have a lovely flavor; you can take one out to inspect. Continue roasting them in batches until you've used up all of the nuts. To roast nuts, put salt or even oil on them for flavor. Cashew nuts can also be roasted in the oven.
MARKETING
Find companies that buy them for export; most of them are situated in Lagos. In Nigeria, Indian cashew firms have a strong presence. You can also sell directly to international buyers. To do so, go to internet marketplaces like Facebook, Twitter, LinkedIn, Telegram, Instagram, Alibaba and put in cashew nut buyers to get a list of potential customers. Open a dialogue with any of them who piques your curiosity and strike a contract.
You can market it online for distributors and suppliers to come and buy from you if you don't want to go through all of this. But it's in the processing that the real money is made. The raw cashew nut sells for a fraction of the price of the processed kernel.
The Jumbo hybrid, for example, is a hybrid cashew nut that matures and produces fruits in three years. For example, #350 is the seedling of a cashew plant. Jumbo, Medium, and Small seedlings have been improved.
RISKS
It despises fire, thus in the event of a fire, the investment is lost.
The farm has been mismanaged.
Natural calamities
Disputes between communities or over land.

HOW MUCH DOES IT COST TO START A CASHEW BUSINESS?
In the community, land costs between $100,000 and $150,000 per hectare.
A survey of N100,000 to N300,000 people was conducted (Can be more due to inflation)
N 150, 000 to N250,000 for clearing, plowing, and scouring
350 x 100 = N 35,000 seedlings (Can be more due to inflation)
Others N 350,000 (may be more due to inflation) Planting N 10,000 (could be more due to inflation) (Can be more due to inflation)
As of the time of writing, these figures are approximations. To find out what the current prices are, you must conduct an impartial survey and investigation. You can also post a comment below to let other readers know what they think about the current prices.
Let's get started right now.
Let's get started.