Do you have any plans to start an ice block business in Nigeria anytime soon? Do you want to know what it takes to run an ice block manufacturing company?
With the hustle and bustle that occurs every day under the scorching hot sun in Nigeria, you will all agree that dehydration occurs at an alarming rate.
Isn't it true that we'll need cold water, a cold drink, or anything chilled to calm our bodies?
Given the state of our electricity in Nigeria, the majority of the traders who sell to us in the market, parks, schools, and hospitals use ice blocks.
Even in the home, it is used to preserve foods, and don't even get me started on events and parties…
You can never go wrong with starting an ice block business in Nigeria, and the best part is that you don't need any training to get started……cool, right?
Without further ado, let's get started.
What Exactly Is the Ice Block Business?
An ice block is simply frozen water (water that has been frozen to a temperature below 0° C), so the business of selling ice blocks to people who pay you money is known as ice block business.
This business, if done correctly, has the potential to make you a lot of money because there is a high demand for ice blocks every day!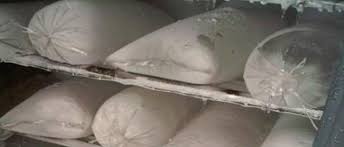 In Nigeria, ice block business entails the production of ice blocks and the sale of these blocks to various vendors for their daily use.
People frequently overlook this business, not realizing that it is a gold mine that can generate a lot of income for whoever is in it, especially those who do it on a large scale.
Let's talk about how to start an ice block business now that we've defined what it is.
What Is Required? How to Start an Ice Block Business in Nigeria
There are a few things you'll need before getting into the ice block business, and I'll go over each of them below:
Water is the first and most important material required for the production of ice blocks.
You'll need very clean, well-treated water……you don't want water that will contaminate people's food or drinks because this ice block will be used to cool mostly edible items and will come into contact with them.
If you do not have a good source of water, you can purchase it from a water company, but it is preferable if you have a borehole or a very good well.
Please adhere to the highest standards of hygiene.
Machine for Making Ice Blocks
Ice block machines are used to make ice blocks; they are very easy to use, just like regular freezers, but in a more advanced and larger capacity.
There are rectangular containers in which water is poured to make ice, and when the ice is ready, it takes the shape of the container.
These ice block machines are made both locally and abroad; depending on your budget, you can get either one.
The price range varies according to the amount of ice that can be made at once by the ice block machine.
We have those that can make 500, 400, 300, 200, 150, 100, 80, 60, 50, 40, and so on ice cubes all at once.
When purchasing an ice block machine, consider the following factors: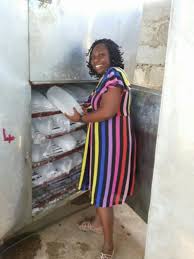 Capacity
Compressor: the cooling system that hardens the ice block;
Freezing time: the amount of time required to produce a batch of ice blocks.
When deciding on a brand to buy, these factors cannot be overstated.
Packaging
Ice blocks are placed inside a white transparent polythene bag for easy movement because ice blocks can be very slippery and would be difficult to move without the bags.
These bags also help to keep the ice blocks frozen and defrosted. It also allows you to brand your ice block to distinguish it from other plain ice blocks.
When it comes to your ice block business, packaging is also an important factor.
Solar Power/Generator Set
There is no ice block business in Nigeria without a generator; electricity supply in Nigeria is unreliable, thus the need for a generator.
When there is an electricity supply, the voltage may not be sufficient for your ice block machine, so a generator should be used to avoid damaging your machine.
Some people have decided to use a deep freezer for their ice block business, and they are making good money every day.
These are the most important things you will require before beginning your ice block business in Nigeria.
Tips for Running a Successful Ice Block Manufacturing Business
In this section, I'll go over a few pointers for running a profitable ice block business.
Base of Customers
To build your customer base and make your ice block business a success, you must target some customers.
These are the customers who will always have a need for your product, whether for business or for personal use.
Customers who sell in markets and at bus stops are examples of such customers, as are event planners, hotel operators, restaurant operators, petty traders, residents with no or limited electricity supply, and so on.
The real markets are in busy car parks, markets and campuses. Just pack the ice blocks in the boot of your car and drive to such places. tell a few women selling drinks that you have ice block in your boot and you will be surprised. When one person buys, that singular one person will invite others to come and buy with a big shout or they will tell you the next person to market to. I once went to a busy park with 40 pieces and was surprised how all was sold within 20 minutes. They need it, take it to them.
This allows you to make sales all of the time because these people require ice blocks for their daily activities.
The Ice Block Industry Is Seasonal
The ice block business is a seasonal one in the sense that there is a high demand for ice blocks during the dry season.
During this time, prices rise, ensuring that more sales and profits are generated.
Meanwhile, it is not hot during the rainy season, so people will not want to drink cold water or cold drinks during this time, and prices will fall.
So you know that during the rainy season, you reduce production and increase production during the dry season.
However, you can still make money from ice block on a rainy day!
Your Machine's Maintenance
Make sure you take care of your machines, specifically the ice machine/freezer and your generator.
Service them on time and with care, adhering strictly to the producer's rules.
You don't want any of them to fail, resulting in an inability to produce ice blocks and disappointing your customers.
When this happens, your customers will go elsewhere to get it, which is very bad for business. As a result, make certain that your machines are always performing at their peak.
A tokunbo car is better than a used car. A new car is better than a tokunbo car. The same applies to ice block machine. Be wise!
Concentrate on densely populated areas.
Markets, streets, bus stops, and school zones, among other places, should be targeted for ice block sales.
The more ice blocks you sell, the more money you earn. So keep an eye out for such places where you can sell your product.
Or areas where the transformer is under repair!
Ice Block Business is extremely competitive.
The ice block business is highly competitive, so you must be smarter than your competitors, as anyone can start one because no training is required.
How to Make an Ice Block – Ice Block Manufacturing Process
Here, I'll walk you through the process of making an ice block step by step.
Line the ice block maker containers with polythene bags in step one.
Fill the containers with fresh, clean water in step two.
Step 3: Turn on the ice block maker and let it work its magic.
Step 4: The ice block will be ready in 7 to 24 hours, depending on the build, capacity, make, price and maker..
Step 5: Take them out of the machine and repeat the process for the next batch, depending on how many you want to produce in a day.
That's it, your ice block is now ready for sale.
Can I Use a Deep Freezer to Make Ice Blocks?
So, can deep freezers be used to make ice cubes?
Deep freezers can also be used to make ice blocks, but the process takes longer.
For example, whereas an ice block machine can produce a large amount of ice in 7 to 24 hours, a deep freezer may take longer (like 2 to 4 days) and the quantity will be less than what an ice block maker can produce at once.
You will need freezers to store the ice block produced by the ice block machine.
The Costs of an Ice Block Machine
The price of an ice block maker varies depending on its capacity as well as the brand.
We have both locally made and imported ones. Foreign-made items are more expensive than domestically produced items.
The cost of an ice block maker can range from 500,000 to millions of naira, depending on its capacity and many other factors. Try your best to go for new machines.
Review of the Ice Block Business
Would you believe me if I told you that my sister and her husband used ice-block business to survive and live well  and train their children?
The sales price is one hundred Naira per piece,
You now have everything you need to start and run a successful ice block manufacturing business in Nigeria.
If you found this post to be extremely useful, please leave a comment and share it with others.
Talk to Mr. Fem when you need ice block machine on 08036209565 or drop your comments below.