When applying for a scholarship, one of the requirements is a letter of recommendation. Here, the person you asked to write this should back you up as you keep your hopes of winning the scholarship alive.
As a result, ensuring that you approach the right person will undoubtedly increase your chances of obtaining the free education you have always desired.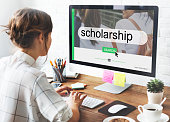 When you choose someone to write a letter of recommendation for you, you do not have to approach someone you have known for a long time. It does not necessarily imply that the person is well acquainted with you. Because the purpose of the letter is to confirm your eligibility for a scholarship, the person you select should be someone who can provide an honest assessment of your skills and capacity.
He or she might not be a frequent letter writer. He or she may not have the most impressive title before his or her name. He or she should be able to express himself or herself on paper. The person you choose to write your recommendation letter should also be able to complete the letter on time, as most scholarship applications have strict deadlines for completing all requirements.
Once you've decided who will write your letter of recommendation, the next step is to approach him or her. Keep in mind that you should explain to that person why he or she is the one you've chosen. Explain to the individual why and why you are writing a recommendation letter. Also, keep in mind that a good approach will result in a better outcome and letter content. The key is to be courteous.
Keep in mind that the letter of recommendation is a job that must be done perfectly, so your participation is required. This means that once you've asked someone to write a recommendation letter for you, you don't leave him or her wondering, "What am I going to write about him?"
Make sure you give him or her all of your information. List some of the extracurricular activities that you believe would be a great asset to you. Give the person all the information he or she needs to know about you. Also, give the person a copy of your essay so he or she can get a sense of the approach you take. Knowing all of these will make it much easier for him (her) to finish the letter early.
It is also advisable that you get a full professor to write academic references for you. Personally, from experience and interactions I know such carry more weight than when other cadres write for you. in the absence of a professor, you will have no choice but to submit that of other ranks of academics and you may still be considered!
In addition, some letter requires completing online. If you live in a rural area or the person recommending you is not internet savvy, you must assist him/her to get the data and other IT tools needed to navigate the internet and send your reference. Remember, it is your letter, it is your funding and it is your life.