Do you know you can make money by buying and selling yams?
Do you really know you can make cool profits by marketing yam?
Let's go, I will show you how today.
As the dry season approaches, the yam business is a profitable food business that will earn you millions of naira. Only if proper business knowledge is acquired.
1.Privileges in  yam marketing.
Buying yams in bulk in the hundreds from high yam producing states in Nigeria and selling them in consumption areas such as Lagos, PH, Kano, Enugu, Bayelsa, and so on will make you money in the end.
The idea is that you locate the local yam markets or hinterland in these yam-producing states to purchase yams at a low cost and then arrange for transportation to transport them to large cities for you. You can also hire a food gate agent to bring you yam tubers. Trucks for transporting ware yams to these locations, i. e. consumption areas, are available at these local markets and can be hired either individually or by a group of yam marketers. There are organized yam zones or yam markets in all consumption cities, such as Mile 12 or Mushin market in Lagos, where yam wholesalers and retailers are ready to pay you cash for your yams. Repetition of this process will result in money flowing.
2. Business opportunities for yam seeds
Farmers are facing a shortage of yam seeds in both quantity and quality. Most farmers do everything they can to preserve seed yams from one harvesting season to the next by harvesting a specific yam plant twice, first for the main tuber while the plant is still green with leaves, and then for the last phase for planting purposes, which may have helped produce seed yams. However, pests and diseases frequently attack these locally preserved yams. If only most farmers were aware that there are specialized government agencies dedicated to providing high-quality certified seed yams. However, if you are astute and apply for seed yams in these government locations and deliver them to farmers over a period of time, you will undoubtedly make money because farmers are always scrambling to buy yam seeds.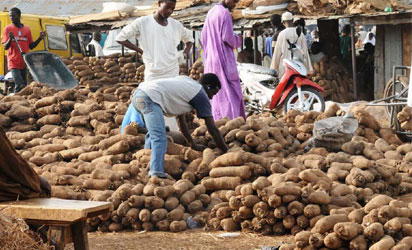 3.Yam flour manufacturing business opportunities
Yam farmers in Oyo and Osun states have traditionally produced yam flour in the form of "elubo" since time immemorial. However, newer products, such as neatly packaged poundo yam produced by some companies in Lagos and Ibadan, have emerged in urban markets. Elubo is made locally by parboiling yams, peeling them, slicing them to smaller sizes, exposing them to sun or heat to dry properly, then pounding and storing them for later use.
Possibilities for storing yams in business.
Most agricultural products are seasonal, so while yams will be plentiful by July to October, depending on the various producing states, there will be a period when they will be scarce and expensive. Those who live in yam producing or consumption states can make a good profit if they rent or own a warehouse and begin stockpiling ware yams. This is possible if you know how to store yam without it spoiling or sprouting. Farmers' strategies for supplying us with fresh yam all year can be learned from the book.
Currently, 120 pieces of yam that is sold normally for N60,000 will drop to N30, 000 by July/August. Do the mathematics. Calculate your profit versus the quantity you store if you save a N300 yam during peak season, during scarcity period you can sell the same yam for N600 or more. This was the principle that God showed joseph to apply in Egypt during the time of plenty. He saved up in the years of plenty and they had surplus and enough during the period of scarcity.